Fantasy Premier League week 1 review.
https://anchor.fm/EnglishwithDamon/embed/episodes/English-with-Damon-S2E2—game-week-1-review—talk-futsal-learn-English-ejqac7
Listen on Anchor!
Transcript
Hello and welcome to English with Damon, season 2 episode 2. This season we're gonna talk about the Futsal Camp UK Fantasy Premier League, futsal news from around the World and all the while practising English! There will be a worksheet for each short episode and a list of useful words, but try to listen a few times until you can understand the whole episode. It's a great way to learn a language!
Remember, you can enter the biggest, futsal fantasy league by clicking the link in the description (here): https://fantasy.premierleague.com/leagues/auto-join/xttgos or using the code xttgos. Entries will be accepted until game week 3. Please share with your friends!
Of course, if you are here to learn English, you will also be interested in Futsal Camp UK 2021. We've set the dates already for July 2021 and we have a VERY special price if you book by 31st October. Our camp is the ONLY futsal and English camp in the UK and is half the price of any other football camp, while giving you an even better experience! Visit www.futsalcamp.uk to find out more!
Did you enjoy the first weekend of Premier League? I will admit, I didn't watch any matches as I was on holiday, but this weekend, Man United play so I will definitely be watching. And of course, I have brought in a United player to my team.
I didn't watch any games, but I kept up to date with my team and I was happy to see Aubameyang and Salah justifying their inclusion, as well as Leno and Van Dijk earning me good points. The rest were pretty disappointing.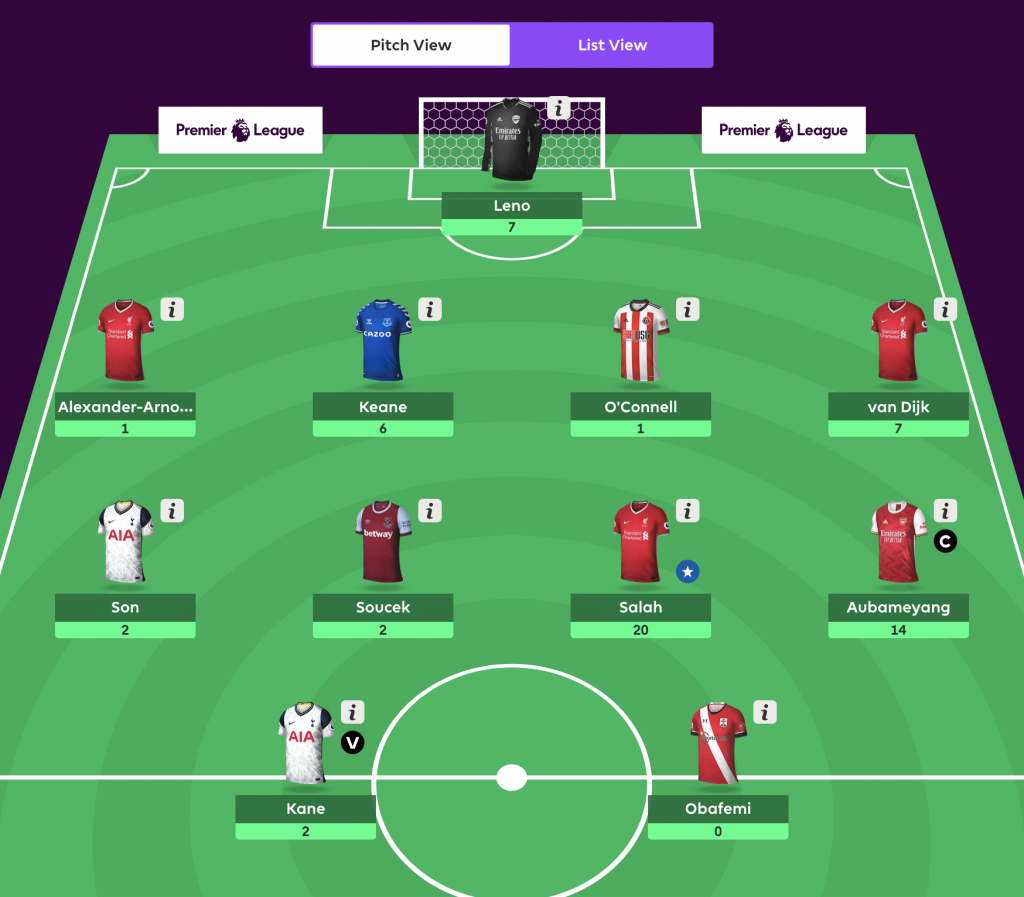 This week I will have Harry Maguire (my team's captain) instead of Alexander-Arnold which also saves me a bit of money to add in a new midfielder or striker next week. I hope the 1.5 million saved doesn't cost me too many points…
Will you change your captain this week? I think I will stick with Aubameyang as he will be playing against a defensively frail West Ham.
Remember, enter the league using the link in the description or enter the code xttgos. Over 150 futsal fans in with us so far!!
In first place we have Kebab FC by Jack Southwell. Not a bad first week with Mo Salah as captain. Was your captain the right choice?
As I said, I didn't watch any games, but Arsenal looked good from the highlights and comments on social media and even though they lost, Leeds probably showed that they will be no pushover this season, despite coming up from the Championship. Who is your favourite for the title this season?
Game week 2 sees the return of Man United but the big clash is Chelsea taking on Liverpool. A hard one to call, but an early indicator of whether Liverpool will be as dominant this season as last season. I am hoping Chelsea can take points off them just to bring them down to Earth a little bit.
Anyway, good luck for game week 2 and try to have faith in your team, see you next week!
Find season 1 on www.damonshaw.co.uk/
Worksheet 2
Do the worksheet during or after listening to the podcast. Don't use the transcript unless you really need to! Listen as many times as you like!
Can you find examples of the following?

Present simple:
Past simple:
Present perfect:
Future:
Can you find any phrasal verbs?
Quiz
Why didn't I watch any matches in game week 1?
Who will I be watching this week?
Which player did I bring in to my team?
Who will be my captain in game week 2?
How many futsal fans are in the league?
Who do I want Chelsea to win against?
Useful vocabulary
Look them up and write down the meaning in your language, or even better, write a definition in English.
Justify
Inclusion
To earn
Disappointing
Frail
Pushover
Despite
Clash
Take on (taking on) PHRASAL VERB!
Dominant
Bring them down to Earth